How to Decorate a Rental: Switch Out Your Light Fixtures!
This post may contain links to affiliate websites, such as Amazon and we receive an affiliate commission for any purchases made by you using these links.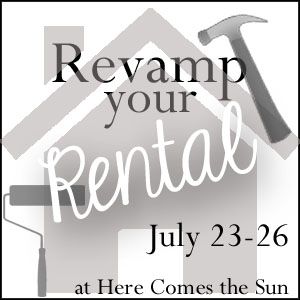 I am so excited for my "Revamp Your Rental" Series this week on the blog. The idea for this series came about when I realized that there are a whole lot of blogs that post amazing DIY projects that homeowners can do, but for someone who lives in a rental property, these projects sometimes aren't feasible. But there ARE ways that you can make your rental feel homey without knocking down walls, installing built-ins or even painting. My goal is to inspire other renters (and homeowners, too) to create a unique space and not feel restricted by what you can't do but focus on what you CAN do.
My first guest for this series is Jessi from Practically Functional so I'm turning it over to her…
When Kelly contacted me about participating in this Revamp Your Rental series, I was so excited! We have done some awesome projects to turn our tiny apartment into a home we love to live in, and I'm always looking for new ideas that we can try without forfeiting our security deposit! So it's perfect! I can share some of my tips with you, and come back all the rest of the week to get new ideas! Today I'm going to share a quick and simple project that you can do to make your living space more livable: Switch out your light fixtures! Whether you have wall sconces, overhead lighting, or something else entirely, updating your light fixtures will make a huge difference!
But first, let me introduce myself! I'm Jessi, and I blog at Practically Functional, a blog about simple, practical ways to love your home, no matter where you live!
We have a tiny apartment just 5 miles north of downtown Chicago, but the small space (
and lack of a car!
) doesn't stop me from crafting, cooking, gardening, organizing, and even big DIY projects (
that are rental friendly of course
)! We love every single square foot of our little home, and you can love yours too! And don't worry, I'll give you detailed instructions and pictures in every tutorial, so
stop by for a visit
and see if you can find some inspiration! Now on to these light fixture updates!
Renter DIY: Update Your Light Fixtures!
I see a ton of awesome projects as I look through the blogs I follow every day, and they usually make me say "Oh man, I can't WAIT until we own our own home!" I definitely want to be able to knock a hole in a wall and make a breakfast nook, or build in a custom pantry, or even just paint a wall! But we can't because we live in an apartment right now. But that doesn't mean you can't make your apartment a home, and it doesn't mean there aren't projects out there that you can do! The very first thing we did when we moved into this apartment was to update the lighting. It's a simple project, requires very little time or skill, and it makes a HUGE difference in the appearance and feel of the apartment!
The first thing I noticed about the lighting when we walked into this apartment was that the lights were all on the walls! There is no overhead lighting in the main room of our apartment!!! The next thing I noticed is that the light bulbs were naked! There was no covering or diffuser on the bulbs; they were just bare bulbs in grimy old brass settings! Blech!
So we made a quick trip to Home Depot and found some "rustic" looking wall sconces (with actual glass diffusers this time!) and brought them home. About an hour later they were installed and we had brand new lighting in our apartment! I don't have a full tutorial for you guys on how to install and wire new light fixtures because I could talk for DAYS about how to do it! I know there are tutorials out there if you want an exact step by step guide to doing your own wiring, but here are a few tips and tricks:
Turn off the lights before you start! Even better, if you have access to the fuses for your apartment, turn off the electricity to the entire circuit! Don't electrocute yourself!
Pay attention as you remove the old light fixtures because chances are, the new ones go on in pretty much the exact same way!
If your new light fixtures don't come with instructions, Google it! Someone somewhere has had the same problem, and somebody else has at least attempted to help them out!
After you get the new light fixture wired, but before you go through all of the work to attach it to the wall or ceiling again, flip the fuse back on and test that you wired it correctly! We skipped this step and got all four wall sconces fully installed only to realize we had messed something up on one of them! At least the other three worked. 🙂
If you have wall sconces like we do, make sure you know how to level them out before you finish installing them! Sometimes you have to do the leveling before you actually put the fixture on the wall, and if you wait until it's fully installed, you're just going to break it when you try to rotate it so that it's straight! There is nothing worse than a wonky wall sconce tilted off to the side after all the work you did to switch them out! Unless you break it. That's worse! So just be mindful as you're installing them.
Keep your old light fixtures somewhere safe! That way whenever you move out you can just reverse the process, reinstall the old lights, and take your new fixtures with you!
I just stuck the old wall sconces in a cardboard box and shoved them up in a closet somewhere. 🙂
And now we have pretty wall sconces! I love the dark color and the slightly faded and antiqued look that the metal has. Much better than that scuffed up brass!
And the light is a lot softer now that there are actual diffusers on our lights! It was pretty crazy turning on the lights when they were just bare bulbs, and having the frosted glass around them doesn't actually lessen the amount of light in the room very much, it just makes it gentler on your eyes.
The entire thing took us about an hour and made a HUGE difference! That's my kind of project! Plus, as long as you keep the old light fixtures and reinstall them before you leave, it's totally renter-friendly! Thanks a ton to Kelly for letting me share this tip with you guys today as part of the series! If you liked the idea, make sure you stop by
Practically Functional
for a visit! I'd love to see you there!