How to Decorate a Rental: Bold Curtains and a DIY Bay Window Curtain Rod
This post may contain links to affiliate websites, such as Amazon and we receive an affiliate commission for any purchases made by you using these links.
Welcome back to my Revamp Your Rental Series.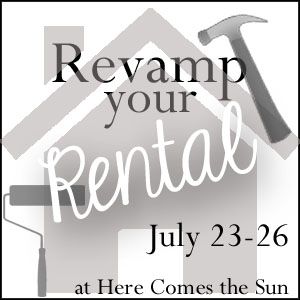 If you missed yesterday's post, Jessi from Practically Functional shared tips on how to update your lighting.
Today we are focusing on windows. When we moved into our rental, I didn't put up any curtain rods for over a year. My windows were bare and lonely for a very long time. When painting restrictions cramp your decorating style, you need to bring in color in other ways. I like to incorporate bold colors and patterns into my space with my curtains. Here are the curtains that are in our dining area.
Did you know that it is super easy to make your own bay window curtain rod? And you can do it for cheap! All you need is conduit, finials, curtain rod hangers, and spray paint.
You'll need to make your measurements and bend your conduit. Use a cardboard template to measure the angles of your corners.
Then, bend your conduit until the bend matches the template angle.
After bending, you can either leave the conduit plain or spray paint it to match the rest of the curtain rods in your house. After installing your curtain rod, attach the finials to the ends and you have a custom made bay window curtain rod. You can find the
full tutorial here
.
I hope you are enjoying this series. Stop back tomorrow for more!