How to Decorate a Rental: Room Makeovers from The Nester
This post may contain links to affiliate websites, such as Amazon and we receive an affiliate commission for any purchases made by you using these links.
Welcome to the final day of my series.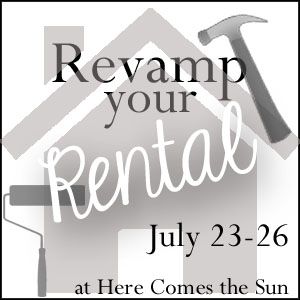 If you missed the previous posts in the series this week, you can catch up on all of them:
For this post, I am highlighting some amazing room makeovers from Myquillyn aka The Nester. She has been renting for 7 years. If you take a look at her blog,
Nesting Place
, you'll see that her motto is "it doesn't have to be perfect to be beautiful". I need to adopt this motto pronto.
At first glance, her gorgeous house may seem like it just cannot be a rental. Oh but it is. She has done such a great job decorating it that her home has been featured in Better Homes & Gardens DIY Magazine, Ladies Home Journal, Cottages and Bungalows and this Christmas will be in Better Homes & Gardens Christmas Ideas.
Here are some of my favorite rooms in her house with links to full tutorials showing how she updated each one.
Kitchen
She created a unique backsplash with beadboard. And it's totally removable. Want to know how she installed it? Find out here.
Master Bedroom
Learn what she used to create this gorgeous
accent wall
in her master bedroom.
Laundry Room
Don't overlook spaces like the
laundry room
. Small changes make a big impact.
I don't know about you, but after seeing all the amazing inspiration this week, I am so motivated to start some makeovers in my own house.
Thanks for reading this week!
Let's Keep in Touch!